How to turn on/off the alarm function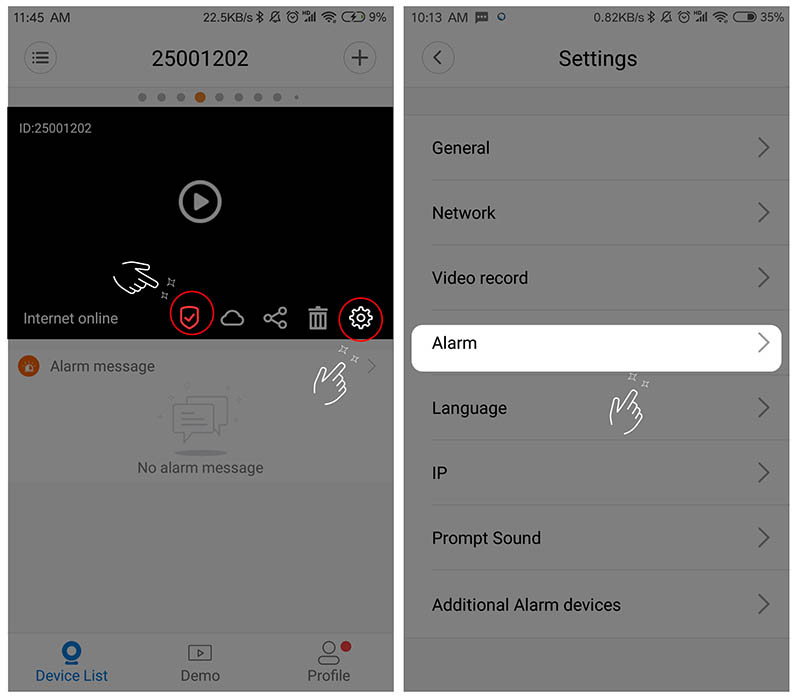 After the camera is connected to the camera, open the V380App 
Method One: Click the [Device List] device playback screen [ Arbitration /Disarming] button, tick to open Arming (Figure 1)
Method Two: Click [Settings]->[Device in the lower right corner of the screen Alarm】 【open/close interface】 【disarm switch, blue open (Figure 2)
Mobile App Fails to Receive Alarm Screenshots
1) On the [Settings] – [Device Alarms] screen, confirm that the device is armed 
2) Make sure the arming time and arming zones are set correctly 
3) Make sure the device is connected to the phone and can be previewed in real time 
4) Try to close the software completely and reopen it 
5) Trying to upgrade the device firmware version or restart the device
Mobile phone does not receive alarm information push
1) Confirm that the mobile phone can receive the alarm picture 
2) In [My] – [Settings] – [New message push] to confirm the push function has been opened 
3) Confirm the mobile phone has opened the software's push notification authority 
4) Try to uninstall the software Loading 
note: Due to system reasons, some mobile phones are not compatible with push service and therefore cannot receive alarm information. If you are inconvenienced, please understand.
Alarm picture cannot be opened
1) There is a network fluctuation, please try to refresh and reload 
2) Please try again later to open the picture
How to delete the alarm screenshot
The alarm picture is stored in the cloud and cannot be manually deleted. The system will clear the alarm picture periodically (a week or so). 
The old alarm picture will be deleted on its own
How to turn on or off the wireless camera alarm tone
After the mobile phone is connected to the device, click [Settings]-[Device Alarm] in the lower right corner of the V380App device list screen to turn on or off the [Alarm Alert] switch
Why do devices alarm frequently?
1) The device moves or the screen shift will cause an alarm 
2) The screen mode switching or light changes will cause an alarm 
3) Too much noise in the screen may also cause an alarm 
4) Try to restart the device or upgrade the device firmware version
Does the wireless camera support external alarm equipment?
Some wireless cameras with 433 functions can be connected to external alarm devices supporting 433 protocol, please confirm with the seller before buying
433 alarm connection instructions
1) After the mobile phone is connected to the device, click [Settings] – [Alarm Settings] in the lower right corner of the device list screen, click [Zone Settings] to enter the linkage device add interface 
2) Click the right plus sign to enter the configuration interface, and at the same time open the Configure the linkage device (such as: access control, smoke sensor, etc.) and trigger the alarm. 
3) After the alarm is triggered, the device can automatically search for your linkage device. when the research ends and the device shows up, click the configuration button, set the name and alarm parameter to add the device. 
4) Enter the PTZ page of the camera which has been connected to linkage device,set preset position on the top right corner and apply, then save 

Note: 
1) Only 433 protocol supported linkage device works 
2) Set the rate to 1~~2K if you are using oscillating resistance adjustable linkage products before configuration. 
3) Some products use 9V square batteries,so please prepare if necessary
Artificial intelligence alarm identifys human shape in the picture by deep neural network algorithm, there may be possible false alarm. Reporting false alarm pictures can help us to optimize the system and reduce false alarms 
Tick the lower right Corner, and go back to previous page,false alarm image will be reported.